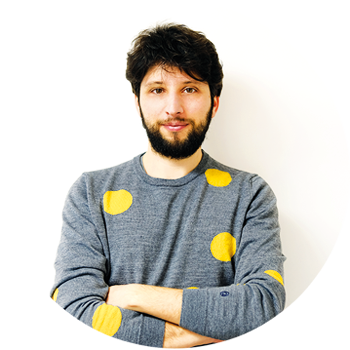 Hi, I'm Alberto G. Valerio
Web Designer
|
Web Developer
|
Magento® Developer
|
Freelance
View Resume
View Curriculum Vitae
"I can't imagine being anything other than a web designer and web developer. In this way I have the chance to do of my creativity and passion in communicating through different languages, my job!"
I begin my professional journey with a two-year advanced training course in graphic and web design, obtaining the professional title, acknowledged by European Community, of "Technician of the Graphic Representations of Advertising Messages" in addition to the coveted ACA (Adobe Certified Associate) international certifications issued directly by Adobe Systems® Inc.
Since then I've carried out both the study and the work... following numerous coding courses and finally I'm currently completing university studies to take the bachelor's degree in "Computer Science and Technologies for the Software Development", at the same time I've released numerous web design and web development projects, working with web agencies and ads companies or as freelance, you can see some of them in my portfolio.
My projects and my ideas are born from a personal cultural widened background that allows me to constantly draw stimuli from different disciplines and sources; for this reason I consider the web designer and the web developer a real director of creativity, expressed through a different language from traditional paradigms, able to manipulate the evocative and symbolic value of the sign, where even a call-to-action has the power to make us dream!
I currently reside in southern Italy, but i'm available to clients anywhere for freelance projects; if you'd like to know more about my digital skills and about what I can do for your business or just to say hello, contact me here!
EDUCATION & CERTIFICATIONS
And a great desire to learn...
Always passionate about the world of computer science and the algorithmic vision of the world, over the years I have achieved numerous training courses and a coding bootcamp based on Laravel Framework and Agile Methodology, combining creativity and personal attitudes to the Information Technologies.
HARD SKILLS
What's in the basket?
I keep myself constantly updated about the developments of technology applied to the web's world. So I can provide to my clients high quality standards and forefront solutions.

2 years
5 projects

3 years
8 projects

3 years
8 projects

2 years
5 projects
4 years
6 projects

4 years
12 projects

2 years
5 projects

1 years
3 projects

3 years
12 projects

4 years
15 projects

5 years
40+ projects

5 years
40+ projects
SOFT SKILLS
What I am made of
I continue to learn a lot about myself (and others) as I continue to try new things and challenge myself on regular basis with new projects and goals.
creativity
analysis
communication
motivation
punctuality
curiosity